<< This is an early release of the translation. >>
If there are any typos or other mistakes,
these will be corrected in the next day or so.
Thanks for your understanding!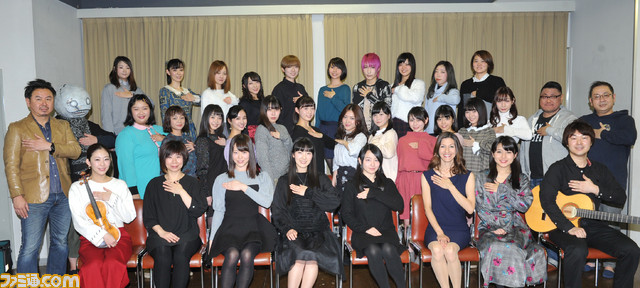 <YoRHa Musical Ver.1.2>
-Today (January 4th) is the first meeting for the "YoRHa Musical Ver.1.2", but as for actual practices…
Matsuda: Practices will start from tomorrow (January 5th). We plan on working on making the play over the course of the next month.
-After this meeting once everyone has had their first look at the script, do you ask the cast what they think about it?
Yoko: No… because I didn't finish it until early this morning!
-Eh!?
Matsuda: I got his E-mail around 2:30 this morning and finished reading it around 6am. (haha)
-I understand there's usually not much time to cover the play, but for the playwright to finish the script just before the first meeting…
Matsuda: It's not all that unusual. Just, the play this time around is on a much larger scale… (voice trails off)
Yoko: SoRRy for making you wait!
-So, you're comment in the end of the year issue of Famitsu, where you said "I haven't finished writing the script," you weren't joking… Since the "YoRHa Musical" is essentially the third run of the stage play, I assume that the fundamental story will remain untouched, but are there any details that have changed?
Yoko: For the previous plays, I wrote the original manuscript but Asakusa Kaoru write the script, but this time I took Asakusa's script and made some edits to it to make it more my style. I ended up taking out a couple characters and creating a new character that Maria Yuriko will be playing.
-A new character!? Judging from her name, it seems like she's a member of the Resistance.
Matsuda: Definitely watch out for that. As I read the script, by removing some of the characters, I think the relationship between characters is much clearer and more fleshed-out… I think it's been improved a lot.
Yoko: The previous versions of the play were set up to be "Girls Theater" where a lot of young girls perform, but this time around, that wasn't necessary any longer, so it wasn't necessary to actively aim for a large cast. I think the number of cast members is appropriate this time.